Summer is just around the corner and things are already heating up in South Louisiana! One of our favorite ways to cool off the kids and let them burn some energy is visiting a local splash pad. There are several GREAT parks and play areas in Covington and Mandeville so let's get splashin'! Maybe even splurge for a snowball after?
Coquille Parks & Recreation      
Location: 13505 Hwy 1085, Covington, LA 70433
Cost: FREE!
Coquille has a few play areas geared towards different ages. The most popular feature is the splash pad, which operates from 10 am – 5 pm, 7 days a week. There is a small pavilion near the splash pad that has convenient bathrooms and offers some shade for picnic tables nearby. Coquille has recently opened a brand new play area (not pictured) adjacent to the splash pad area that is a large ship with a sand play area. Another new addition is called "The Grove" and has oversized versions of chess, shuffleboard, and more! There are also paved paths for anyone looking for a running space.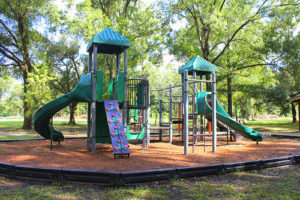 photo credits to Coquille Parks & Recreation District
Kids Konnection Playground  
Location: 21410 Koop Dr, Mandeville, LA 70471
Cost: FREE!
You might hear this one called "the Koop Drive Park" by locals. Kids Konnection is a truly unique play area because it is fully handicap accessible. The park is adjacent to the Tammany Trace, which is a pedestrian walking/biking path that winds through St. Tammany Parish. It is also within walking distance to the new Children's Museum of St. Tammany. The fully fenced in play area is relaxing for parents, with plenty of seating available, including a shaded pavilion with picnic tables near the sand pit. The Kids Konnection playground does not have a splash pad, but if you take a walk south on the trace you'll find a beautiful meadow and bridge where you can feed the turtles! Bathroom facilities are also conveniently located just outside of the side gates of the park. Hours of operation are 8 am – 6 pm (closing time changes with daylight savings time, so double check this during winter months), except for Mondays, when it opens at 11 am.
Paul Cordes Park
Location: 3101 East Causeway Approach, Mandeville, LA 70448
Cost: FREE!
This park is located behind Mandeville City Hall on a sprawling section of land. It has tennis courts, a basketball court, and several play areas, including fenced in area for smaller children. A small covered pavilion with picnic tables sits in the middle of the park and public restrooms are available. The variety of play structures at this playground is great. From large pieces of climbing equipment to toddler slides, there's something for everyone!
East Lakefront Children's Park 
Location: 1500 block of Lakeshore Dr, Mandeville, LA 70448
Cost: FREE!
Located right on the beautiful Mandeville Lakefront, this play area features a splash pad perfect for those hot days! There are some play structures around the splash pad and a swing set. The splash pad is open 10 am – 9 pm, May through October. It should be noted that there are no public restroom facilities at this park, in case that is a concern. There are often portable toilets nearby, however.
Fountainebleau State Park
Location: 62883 Hwy 1089 Mandeville, LA 70448
Cost: $3 per person entry fee for the State Park (children 3 and under and seniors 62+ are free)
Fountainebleau State Park is another stop on the Tammany Trace. The park has areas for camping and hiking, a beach area, playgrounds, and a splash pad area. The beach area is great for sand play or just something different without having to drive far. The playground equipment was just updated a few years ago. There are grills available for use and a small restroom pavilion that may require a walk depending on which part of the park you are spending time in. The splash pad is open from Tuesday-Sunday, 9 am – 5 pm, and closed on Mondays for cleaning. This water feature may be a bit intense for smaller children at first, so be sure to keep a close eye out until they are comfortable.
Mandeville Trailhead Splash Pad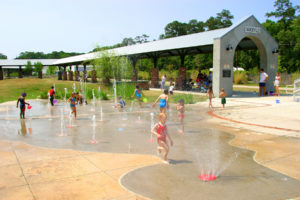 Location: East side of the Mandeville Trailhead near Girod Street
Cost: FREE!
The Mandeville Trailhead Splash Pad is probably the simplest on this list and best for smaller children. The play area is concrete, with spouts of water streaming out of the ground. It is also another stop on the Tammany Trace. There are shaded areas with benches available and public restrooms. If you're looking for a bit more exercise than the splash pad offers or a cool treat, check out Shack Deville across from the Trailhead. They offer bike rentals, snowballs, ice cream, and snacks! The splash pad is available for use 10:00 am – 9:00 pm, May through October.
Abita Springs Park
Location: 22044 Main St, Abita Springs, LA 70420
Cost: FREE!
The Abita Springs park is yet another stop on the beautiful Tammany Trace. It has a large playground with wooden structures and unique elements made with tires. There are public restrooms available, sheltered picnic tables, the Town Museum, and a historic pavilion. The park also has a splash pad between the pavilion and the playground area. This would be a great place to park and explore the Tammany Trace. The park is open to the public from dusk until dark.
Love the water so much that you'd love to have a water view or waterfront home? Take a look at these homes or start your own custom search here!